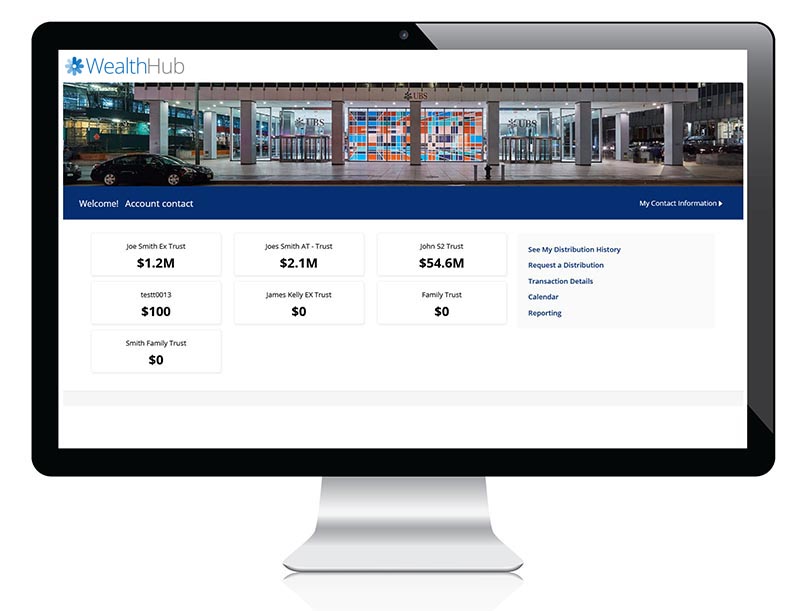 WealthHub
Interactive Portal
Now family members, clients, and advisors can access and interact with trust management information. Seamlessly.
Let investors interact with their account information
WealthHub Interactive Portal is the first online banking/brokerage portal designed specifically for ultra-high net worth entity and asset management. 
It enables clients, family members and their professionals to access key information on trusts and other managed entities; see all the related assets, transactions, and distributions; and make requests for distributions, documents, and updates to account information.
Interactive Portal is the ideal way to keep everyone informed by giving them access to their entity information in our easy-to-use online suite, complete with all the tools needed to drill down and interact with the details.
Improve internal efficiency
Save time in the office
Give clients and family members peace-of-mind with 24×7 access to their up-to-date entity information
With Interactive Portal, clients and family members can:
Access up-to-date information.
They can quickly see all their managed trusts or other entities and related entities, accounts, and the entire asset mix—including special or unique assets—not just liquid positions. Users can also access transaction and distribution histories, contact information, related parties like trustees, beneficiaries, or advisors, and more
Request distributions with ease.
Filling out a simple form automatically creates a record in WealthHub and routes it through the distribution review and approval process. Beneficiaries can view their own distribution histories for all relevant trusts while grantors, trustees, or advisors can see complete distribution histories for specified or custom time frames.
View and manage their details.
Using an easy edit form for updating contact information like address, email, and phone number.
View or download documents.
Access documents such as account statements or tax reporting forms.
Interactive Portal automatically creates records in WealthHub
(for transactions, distributions, etc.) so no rekeying is necessary.